Abstract
The Hampshire & Isle of Wight Branch of Butterfly Conservation (BC) initiated trials of elm cultivars and species resistant to Dutch Elm Disease (DED) in 2000, in fulfilment of Objective 5 for the White-letter Hairstreak (WLH) in BC's South Central Regional Action Plan: to evaluate their potential as host plants for the butterfly, now on the IUCN Red List as 'in imminent danger of extinction'. This report, originally published in 2010, has been substantially revised in the light of the 'Princeton' fiasco. 'Princeton', an American Elm cultivar, was widely promoted in the UK without having been tested for resistance by the European method. The loss of many 'Princeton' elms to DED obliged the relegation of other American cultivars until proven here.
In 2015, the White-letter Hairstreak was found breeding on the DED-resistant cultivars LUTECE. The discovery of the WLH on LUTECE is particularly significant as the tree has a very different periodicity from the reputedly favourite native host, wych elm, suggesting the insect is possessed of a considerable adaptability which could see it breeding on all the high-resistance cultivars featured in this report.
Introduction
The elm trials are located at five sites in southern Hampshire. The sites feature diverse ground conditions, from arid rendzinas atop an outlier of the South Downs to waterlogged London Clays below 1m A S L along the north-west shores of Portsmouth Harbour.
This report focusses on six cultivars available in the UK with a scientifically proven '5 out of 5' resistance to DED. The high DED-resistance of the cultivars featured in this report has been determined in Europe by the Institut Nationale pour la Recherche Agronomique (INRA) in France, de Dorschkamp in the Netherlands, the Istituto per la Protezione delle Piante (IPP) in Italy, Eisele GmbH in Germany, and by Escuela Tecnica Superior de Ingenieros de Montes Universidad Politecníca de Madrid. Testing in all instances was by injection with unnaturally high concentrations (10⁶ spores / ml) of the DED pathogen Ophiostoma novo-ulmissp. americana The BC trials have therefore focussed on the growth and appearance of the trees, together with their tolerance of environmental stresses such as exposure, drought, and waterlogging.
Availability in the UK
Belated import controls have been introduced by DEFRA to reduce the risk of the accidental introduction of alien phytophtherae hitherto unknown in the UK, in particular Xylella and Elm Yellows (phloem necrosis) .
Accordingly, all consignments of elms from the EU must now carry phytopassports declaring their area of origin free of elm diseases. This has meant the termination of all imports of the worthy elm cultivars raised in Italy.
The butterfly
The White-letter Hairstreak Satyrium w-album is a monophagic species entirely reliant on sexually mature elm. Larvae have been very occasionally found feeding on oak and bird cherry in continental Europe, but these occurrences are regarded as random. Moreover, it is sexually mature elm which is preferred as the larvae hatch in mid-March, a number of weeks before the leaves flush, and immediately feed on the elm flowers before progressing to the seeds.
However, recent research by Bink et al. in the Low Countries has discovered that larvae hatching on flowerless, trees are able to survive by remaining in diapause for up to six more weeks, ie. until the leaves flush, provided climatic conditions allow them to rehydrate on hatching. This phenomenon could explain the occasional sightings of the butterfly on English elm suckers.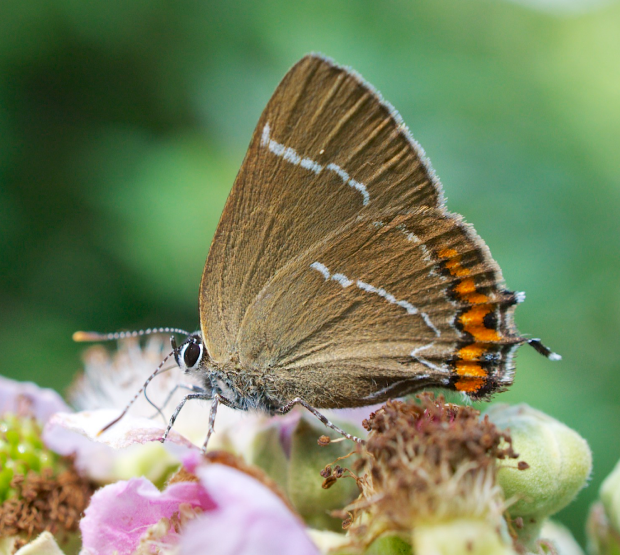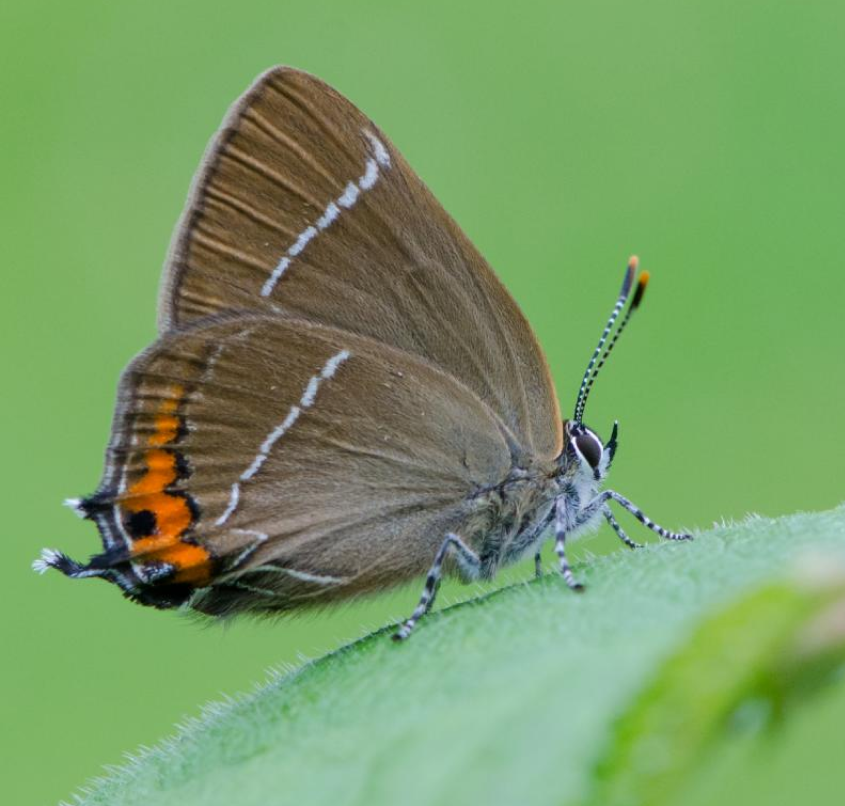 The White-letter Hairstreak is also endemic to much of the Far East, including Siberia and Japan, where it thrives on several of the elms used in hybridization or planted in their own right in Europe and the US. The butterfly is not known in North America
The WLH was found to have colonized elms at two of the BC plantations, Great Fontley and Nelson Reservoir, in 2019. The butterfly had already been found breeding on the cultivar 'Nanguen' (selling name: LUTÈCE) planted at Newport, Isle of Wight, and on 'New Horizon' at Vauxhall Pleasure Gardens, London.
NB. The French natural history unit VarWild has produced a 14-minute film of the lifecycle of the WLH, with close-up photography
.
New Developments
HYBRIDIZATIONS IN ENGLAND AND GERMANY
In England, the late Dr David Herling was successful in 2019 in hybridizing the highly-resistant Italian clone FL493 (later named 'Wingham') with a mature field elm Ulmus minor discovered at Tonge Mill in Kent. Several of its progeny have proven completely asymptomatic after inoculation with the pathogen, as supervised by Forest Research, Alice Holt. However, it has so far proven impossible to propagate by conventional means. Butterfly Conservation members in Hampshire and Wiltshire have also initiated trials, with seeds from openly-pollinated cultivars. Meanwhile in Germany, the Eisele nursery in Darmstadt has raised two highly resistant, as yet unregistered, complex hybrid cultivars of its own; patents pending.
IMPORT RESTRICTIONS
Long-overdue restrictions on tree imports from the EU, introduced by DEFRA from 1 January 2018, have reduced the range of cultivars imported into the UK. In response, attempts are being made to persuade British nurseries to obtain Plant Breeders' Rights (PBR) to raise and sell such trees in the UK. However, major British nurseries only propagate trees for forestry, often by the million, and there has so far been little interest expressed in raising relatively small numbers of 'amenity tree' cultivars for conservation and landscaping necessitating the purchase of PBR.
Currently only two cultivars, LUTECE and VADA, are propagated in the UK, by Frank P Matthews, 'Trees-for-Life', Tenbury Wells.
ELM ZIG-ZAG SAWFLY
The sawfly Aproceros leucopoda is a new Asian pest capable of repeatedly defoliating elms, first recorded in Europe in 2003. The sawfly was found in Britain in 2017, but as the number of broods, as many as five in Asia, is temperature-dependent, it has made a negligible impact, and is no longer monitored as a pest by Forest Research.
Recommended trees
COUNTRYSIDE
'Nanguen' = LUTЀCE
'Ademuz'
PARKS & GARDENS
'Fiorente'
'Nanguen' = LUTЀCE
'New Horizon'
STREETS
'Wanoux' = VADA
'Columella'
'New Horizon'
Bibliography
Bink, F, Cuvelier, S. ↦ Russell, P. (2015). Butterflies in the Benelux. www.phegea.org,.
Brookes, A. (2022). Great Fontley Elm Trial, 2022 Report. Butterfly Conservation, Lulworth.
Emmet , A. M, ↦ Heath, J. (1989). The Moths and Butterflies of Great Britain and Ireland, vol. 7.
Martin, J A et al. (2015) Seven Ulmus Minor Clones tolerant to ophiostoma novo-ulmi registered as forest reproductive material in Spain. iForest - Biogeosciences and foresting. SISEF. 8 (2) :172-180. ISSN 1971-7458
Harley Books, Colchester, UK
Santamour, F. S., ↦ Bentz, S. E. (1995). Updated checklist of elm (Ulmus) cultivars for use in North America. Journal of Arboriculture, 21(3): May, 1995
Santini, A. et al. (2008). Euphytica 163: 45-56. 2008
Santini, A. et al. (2002) . HortScience 37(7): 1139-1141. 2002
Disease-resistant elm cultivars: suppliers in the UK
'Nanguen' = LUTЀCE, 'Wanoux' = VADA
Bare-root whips 1.0-1.5m, mail order
Frank P Matthews, Tenbury Wells, Worcs.
'Nanguen' = LUTЀCE, 'Ademuz'
Bare-root whips 1.0-1.5m, mail order
Peter Shallcross, Tisbury, Wiltshire. Freelance importer & distributor
'Columella', 'Fiorente', 'New Horizon'
Standards >4m high, rootballed
Hilliers Nurseries, Winchester (trade only)*
*'New Horizon' also available from Hillier's Garden Centre, Sunningdale